Exploring Costa Rica's Nature
10 days
San Jose, Arenal Region, Sarapiqui, Tortuguero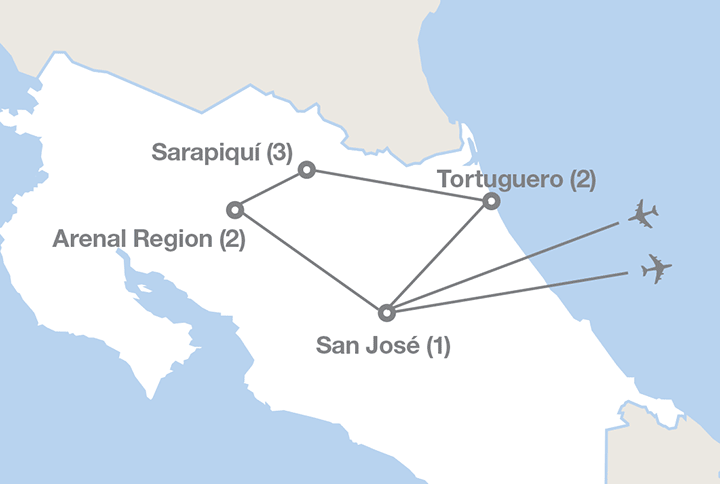 Day 1: Fly to Costa Rica

Meet your Tour Director at the airport

Day 2: Tortuguero

Travel by boat to Tortuguero

Enjoy free time in Tortuguero Village

Day 3: Tortuguero

Take a boat ride through the Tortuguero canals

Visit Tortuguero National Park

Day 4: Sarapiquí Region

Travel to the Sarapiquì region

Volunteer Program at La Selva Biological Station

Day 5: Sarapiquí

Visit La Selva Biological Station

Day 6: Sarapiquí

Travel to Guacimo to participate in 2 programs at Earth University

Production Systems
Banana Plantation

Day 7: Sarapiquí • Arenal Region

Add this in-depth excursion:

| | |
| --- | --- |
| | Whitewater rafting |

Experience the thrill and excitement of whitewater rafting on this optional excursion! Use teamwork to navigate a path through the free-flowing waters of the Sarapiquí River rapids level 2-3, all while admiring the lush Costa Rican scenery as you pass by stretches of tropical forest.

Travel to the Arenal region

Day 8: Arenal Region

Visit the Maleku Indigenous Reserve

Take a canopy tour

Please note: Travelers must weigh below 220lbs to participate.

Hike to La Fortuna Waterfall

Participate in on-site environmental discovery

Visit INBioparque, Poás volcano or a coffee plantation

Day 10: Depart for home
Interested in learning more about this tour?
Day 1: Fly to Costa Rica

Meet your Tour Director at the airport

Day 2: Tortuguero

Travel by boat to Tortuguero

Enjoy free time in Tortuguero Village

Day 3: Tortuguero

Take a boat ride through the Tortuguero canals

Visit Tortuguero National Park

Day 4: Sarapiquí Region

Travel to the Sarapiquì region

Volunteer Program at La Selva Biological Station

Day 5: Sarapiquí

Visit La Selva Biological Station

Day 6: Sarapiquí

Travel to Guacimo to participate in 2 programs at Earth University

Production Systems
Banana Plantation

Day 7: Sarapiquí • Arenal Region

Add this in-depth excursion:

| | |
| --- | --- |
| | Whitewater rafting |

Experience the thrill and excitement of whitewater rafting on this optional excursion! Use teamwork to navigate a path through the free-flowing waters of the Sarapiquí River rapids level 2-3, all while admiring the lush Costa Rican scenery as you pass by stretches of tropical forest.

Travel to the Arenal region

Day 8: Arenal Region

Visit the Maleku Indigenous Reserve

Take a canopy tour

Please note: Travelers must weigh below 220lbs to participate.

Hike to La Fortuna Waterfall

Participate in on-site environmental discovery

Visit INBioparque, Poás volcano or a coffee plantation

Day 10: Depart for home
Interested in learning more about this tour?
See what an EF tour is really like
Everything you get
This all-inclusive global experience gives students the chance to explore the world–all at an unbeatable value.
Airfare & transportation

Your flights—covered. Buses, trains, cruise ships, ferries and subways—covered. We take care of getting you around so you can enjoy the ride.

Hotels

Safe, comfortable hotels with private bathrooms will be waiting for you at your destination.

Meals

Traditional breakfasts and dinners bring local flavours to life as part of your tour experience. Lunches are left for you to discover new favourite dishes of your own.

Entrances

La Selva Biological Station; Earth University; Maleku Indigenous Reserve; Canopy Tour; La Fortuna Waterfall; Hot Springs

Full-time Tour Director

Your dedicated Tour Director is with your group 24/7, providing deep local insight while handling all on-tour logistics.

Expert Local Guides

Your expert local guides add cultural insight and global perspective on your sightseeing tours.

Personalized Learning Support

Our personalized learning experience engages students before, during and after tour, with the option to create a final, reflective project.

Continuous Support

Your dedicated EF team helps you every step of the way—from recruiting and enrolling travellers to planning and managing your tour.

24-hour Emergency Service

Travellers and their families can count on EF's dedicated emergency service team.

Worldwide Presence

EF has over 500 schools and offices in more than 50 countries worldwide so wherever you go, we're there too.

Peace of Mind Program

Feel secure knowing your group can change their destination or travel dates due to unforeseen circumstances.
Pricing that makes travel possible
Our prices include airfare, hotels, meals, a full-time Tour Director, and more.
Payment options
We believe every student should have the opportunity to travel, which is why we let our travellers choose how they want to manage their payments. Enrol in our Automatic Payment Plan with just $199 to start, make fixed and low monthly payments through Uplift, receive invoices and make your payments in less frequent instalments, or pay up front in full.
Benefit from added flexibility of the risk-free enrolment period
If you're currently enrolled, or enrol by 150 days prior to tour departure date, on a tour with a scheduled departure date between October 1, 2022, and September 30, 2023, you'll have the option to cancel your tour for any reason by 150 days prior to your tour departure date for a full refund of 100% of the money paid to EF, including the $199 non-refundable deposit and the cost of the Global Travel Protection Plan.
Contact a Tour Consultant for the most up to date price