Community & Conservation in Puerto Rico
8 days
San Juan – Estimated 12-15 Service Hours
Experience Puerto Rico's lush, tropical landscapes as you help restore and protect the valuable natural resources of the island. In San Juan, you'll experience the culture of a major city, while absorbing the Spanish-influenced history and architecture. Then, the focus will shift to conservation of the stunning landscapes and delicate ecosystems, through Service Learning activities such as reforestation or greenhouse construction. And of course, no trip to Puerto Rico is complete without a visit to the palm tree-lined Seven Seas Beach and a kayak ride along a bio-luminescent bay.

On this Service Learning Tour, you'll support
initiatives such as:

– Environmental sustainability
– Reforestation
– Agricultural restoration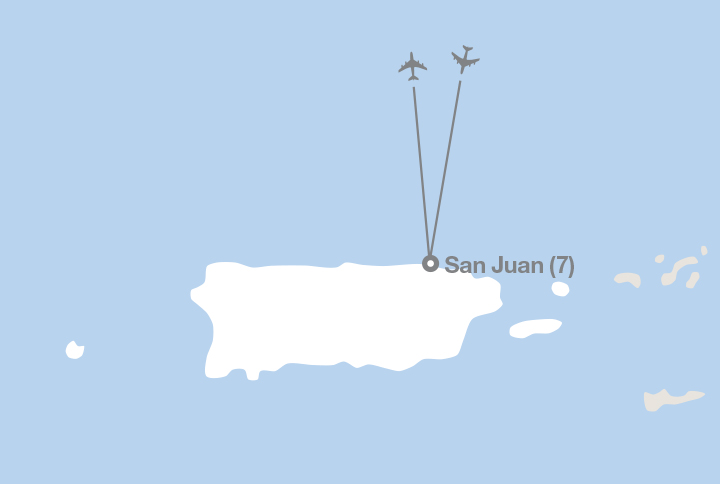 Day 1: Fly to Puerto Rico

Meet your Tour Director at your destination

Enjoy free time to relax at the hotel during the afternoon

Day 2: Service Learning project | San Juan

Get an introduction to the Service Learning project you'll be working on this week.

Visit El Morro, the oldest Spanish fortification in the Caribbean

Take a guided tour of Old San Juan

San José Church
La Fortaleza
Cathedral of San Juan Bautista, site of the tomb of Ponce de León
Capitol Building
Paseo de la Princesa

Experience the colonial charm of Old San Juan at night

Day 3: Service Learning project

Begin your environmental Service Learning work today. Projects could include removal of invasive species, reforestation of mangroves, or construction of greenhouses.

Participate in a Salsa Lesson

Day 4: Service Learning project

Continue your environmental Service Learning project today.

Take a cooking class and enjoy dinner in San Juan

Day 5: Service Learning project

Continue your environmental Service Learning project today.

Day 6: Arecibo valley

Visit Arecibo Observatory

At Cueva Ventana, take some stunning photos from inside this large cave that overlooks the Río Grande de Arecibo valley.

Day 7: Fajardo

Participate in an educational program at Hacienda 8A

Spend the afternoon relaxing on the shores of Luquillo Beach.

Take a kayak tour of the bioluminescent bay

Illuminating microscopic marine plankton give the bay its glow

Day 8: Return home
Interested in learning more about this tour?
Day 1: Fly to Puerto Rico

Meet your Tour Director at your destination

Enjoy free time to relax at the hotel during the afternoon

Day 2: Service Learning project | San Juan

Get an introduction to the Service Learning project you'll be working on this week.

Visit El Morro, the oldest Spanish fortification in the Caribbean

Take a guided tour of Old San Juan

San José Church
La Fortaleza
Cathedral of San Juan Bautista, site of the tomb of Ponce de León
Capitol Building
Paseo de la Princesa

Experience the colonial charm of Old San Juan at night

Day 3: Service Learning project

Begin your environmental Service Learning work today. Projects could include removal of invasive species, reforestation of mangroves, or construction of greenhouses.

Participate in a Salsa Lesson

Day 4: Service Learning project

Continue your environmental Service Learning project today.

Take a cooking class and enjoy dinner in San Juan

Day 5: Service Learning project

Continue your environmental Service Learning project today.

Day 6: Arecibo valley

Visit Arecibo Observatory

At Cueva Ventana, take some stunning photos from inside this large cave that overlooks the Río Grande de Arecibo valley.

Day 7: Fajardo

Participate in an educational program at Hacienda 8A

Spend the afternoon relaxing on the shores of Luquillo Beach.

Take a kayak tour of the bioluminescent bay

Illuminating microscopic marine plankton give the bay its glow

Day 8: Return home
Interested in learning more about this tour?
Your experience includes
This all-inclusive experience gives students the chance to discover the life-changing power of travel—at the guaranteed lowest price.
Round-trip Transportation

Round-trip transportation on major carriers; comfortable motorcoach throughout the tour.

Accommodations

Enjoy a 7-night stay.

Meals

Breakfast and dinner daily; lunch can also be included.

Volunteer and Leadership Activities

Volunteer, leadership, action planning and social issues activities.

Cultural Activities

Experience the local culture through activities that explore relevant social and environmental issues.

Full-time Tour Director

Your Tour Director stays with your group 24/7, handling all tour logistics and facilitating post-project reflection activities.

Training and Support

We prepare new Group Leaders on a free Training Tour and provide personal support every step of the way.

Traveler Resources

We offer travelers flexible payment options as well as a dedicated support team to manage finances and answer tour questions.

24-hour Emergency Service

Travelers and their families can count on EF's dedicated emergency service team while on tour.

Expert Tour Planning

Your dedicated EF team provides expertise every step of the way—from recruiting and enrolling travelers to planning and managing your tour.

Illness and Accident Coverage

Rest easier knowing your travelers are covered on tour with EF's comprehensive coverage plan.

$50 Million Liability Policy

Group Leaders and schools are protected while on tour.
Lowest price
Includes airfare, hotels, meals, full-time Tour Director and more.
Benefit from added flexibility of the risk-free enrolment period
If you are currently enrolled, or enrol by 150 days prior to tour departure date on a tour with a scheduled departure date between October 1, 2022 and September 30, 2023, you will have will have the option to cancel your tour for any reason by 150 days prior to tour departure date for a full refund of 100% of the money paid to EF, including the $199 non-refundable deposit and the cost of the Global Travel Protection Plan if your payments are up to date and your account is in good standing.
Program price valid for today. Program price includes all airline/travel provider surcharges, departure taxes and airport fees. Please call 1-800-387-1460 for more information.