Inspire a new
perspective
on the world
Inspire a new perspective on the world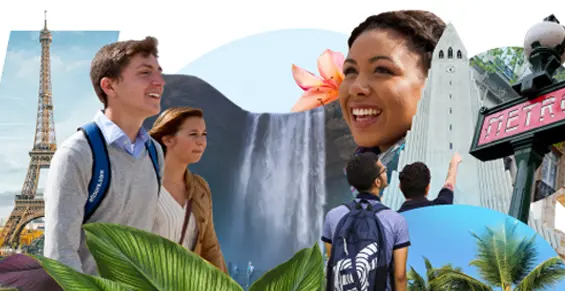 Reimagining student travel, one itinerary at a time
Our tours are curated by world travellers and subject matter experts who understand that compelling itineraries should be full of opportunities for experiential learning.
Change students' lives through travel

/ / / / / /
As an educator, you have the special ability to influence how your students experience learning beyond the classroom. That means you get to give them an opportunity to understand the world, themselves, and themselves in the world in a unique way.
D-Day 80: Be a part of history

/ / / / / /
On June 6, 2024, join Canadian students, educators, and cadets in commemorating the 80th anniversary of the D-Day landings at Juno Beach. Gain a new perspective on history and your place in it as you connect with the local community, participate in ceremonies, and rediscover a significant moment that helped shape history during the Second World War.
What's important to you is important to us

/ / / / / /
We believe travel is for everyone. When students go beyond the classroom it brings education to life, unlocks new potential, and opens a world of possibilities. That's why we prioritize safety, value, and the kind of learning that prepares students for the future and their futures.
---
---
---
Tour reviews
Live, unedited & independent guest reviews
Feel the impact of travel
Preparing to explore a new destination can feel like one big adventure. Yet travel is a collection of smaller moments that comprise the unforgettable whole. From inspiring stories to tour preparation tips, our Boarding Call blog gives first-time and seasoned travellers alike everything you need to plan and enjoy all your future moments, both big and small.

The life of a Tour Director: A Q&A with Patrizio
Why travel with EF? Because you'll get to meet people like Patrizio P., one of our Tour Directors, who gets to travel all around Europe for a living.

4 minute read
Hundreds of destinations. Endless possibilities.