What is Travel for Credit?
Designed to help students thrive in today's classrooms and tomorrow's globalized world, Travel for Credit is a partnership between Abbotsford School District and EF Educational Tours Canada. As Canada's most trusted provider of travel programs for credit, EF offers culturally immersive experiences that prioritize student safety and well-being.
How it works
Students earn credits through in-person or virtual classroom learning and a week of exciting, experiential travel. As your school board/district's trusted partner in travel, EF safely guides students to must-see Canadian and international destinations to expand their course knowledge.
Step 1.
Info Session
& Course Selection
Join a comprehensive Information Session to learn about this exciting opportunity or select your Travel for Credit course to enrol and EF will be in touch.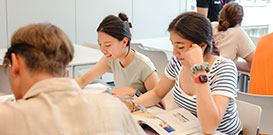 Step 2.
Classwork
& Preparation
Start virtual or in-person classwork after receiving summer school attendance information from your school board/district. Your EF team contacts you about pre-departure travel essentials.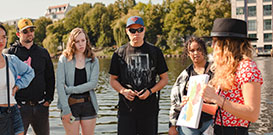 Step 3.
Travel
& Transformation
Students travel to their destination with course instructors, chaperones, and classmates. Let the fun and learning begin!
Save your spot for an Information Session or choose your course now.
Information Session Registration
Join us for an upcoming information session to learn all you need to know about Travel for Credit with
Abbotsford School District, from important dates, tour itineraries, pricing,
and answering your questions about this exciting opportunity.
How would you like to join us?
Testimonials
Live, unedited & independent guest reviews
Travel
EF chooses reputable chain hotels that are safe and student-friendly, usually located outside the city centre. Students typically sleep 3-4 to a room. Twin rooms are available at an additional cost; please contact Traveller Support at 1.800.263.2806.
Daily breakfasts and dinners are included. Students choose and buy their own lunches and are encouraged to try local cuisine for a well-rounded tour experience. EF works with restaurants to best accommodate allergies and dietary restrictions (vegetarian, vegan, halal, gluten-free). You can learn more in your tour's booking conditions. Students' food dislikes are not treated the same as allergies or restrictions—the fun of travelling is to expand not just perspectives, but palates!
Safety is our number one priority, including students' emotional, physical and intellectual well-being. If they have additional or special learning needs that require support throughout summer school (in class or online), please contact your school board/district directly. For travel-related accessibility requests, including an additional chaperone or assistant, get in touch with Traveller Support at 1.800.263.2806.
Students travelling within Canada must bring Canadian government issued ID that includes photo, full name and date of birth; or two pieces of Canadian government-issued ID that show their full name with one showing full name and date of birth. Students travelling outside of Canada, are required to carry a valid passport (valid for 6-months after travel). If travelling to the US by land, students 15 years of age or younger may cross the border with their Canadian birth certificate or Canadian citizenship card. If a student is not a Canadian citizen, additional documentation may be required.
This is up to your Board/District; if consent is given for your student to connect with family or friends (including early arrival or late departure) while on tour, you will be asked to fill out a permission waiver. Individual arrangements will vary.
Academics
No, EF will pass along your student's information to the school board/district. No additional registration is required.
A list of prerequisite courses can be found alongside each Travel for Credit course description.
No, and this is important to note. To earn the academic credit, students must also complete the online or in-person classroom component in addition to travel.
No. Students must partake in the classroom component and be officially enrolled in the academic course to be eligible for the travel opportunity.
Don't worry! It's not uncommon for teachers to reach out near the start of summer school. Please note, teachers send information directly to the student's email, so let them to know to check it. If course has begun and you still haven't heard from your child's teacher, please reach out to your school board/district directly.
Payment and Insurance
Automated payment plan (direct from bank account on your preferred schedule), manual payment plan (credit card) or pay in full. For more details and terms, please visit payment options.
You will be asked to enter your payment details upon enrolling for the tour, whether accepted or on a waitlist, secured in our payments system. When waitlisted, you will not be charged, and your payment details will not be saved. Once your student is moved off the waitlist, you will be asked to re-enter your payment details.
Insurance is mandated by your Board/District for travelling on tour and is included in the tour price. Learn more about our insurance policies and Global Protection Plan. Travellers may not forego insurance nor substitute with their provider.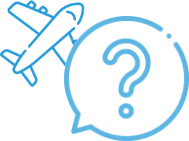 Travel-related inquiries
For travel-related inquiries, please reach out to our Traveller Support team at
1-800-263-2806.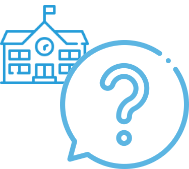 Course-related inquiries
For summer school and academic-related inquiries, please contact our Board/District partners:
Baljeet Gill
[email protected]
Tom van Hunenstijn
[email protected]