VE Day 75: London, Normandy & Amsterdam
10 days
London, Normandy, and Amsterdam
From arriving by boat at Normandy, to walking along the beaches of Juno, to travelling to Amsterdam, this tour follows the journey an Allied soldier might have taken during the Second World War. It tells the story chronologically and ends with a visit to Bergen op Zoom, the former Canadian Headquarters during the Battle of the Scheldt—a pivotal event leading to the liberation of the Netherlands. Students and cadets will have the opportunity to meet with the local community there and discover firsthand how liberating the Netherlands forever changed Canada's relationship with the Dutch people.

Set departure date: April 27, 2020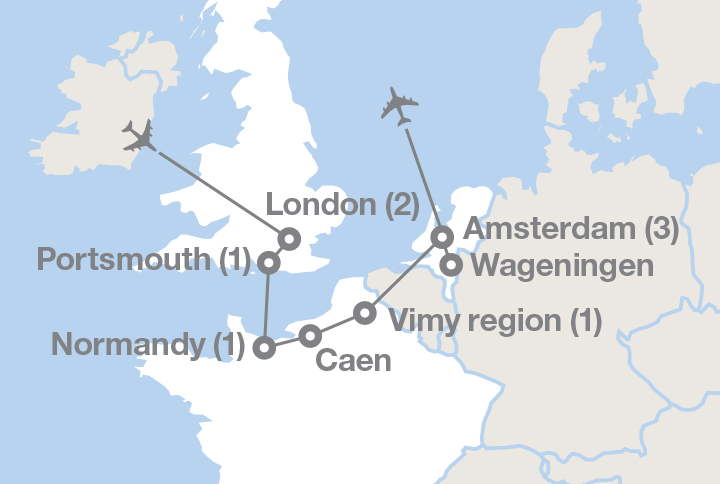 Day 1: Fly overnight to London

Day 2: London

Meet your Tour Director at the airport

Take a walking tour of London

With your tour director you will see:

The Strand
Trafalgar Square
Leicester Square
Covent Garden

Visit the Churchill War Rooms

Day 3: London

Take a guided tour of London

Big Ben and the Houses of Parliament
Piccadilly Circus
St. Paul's Cathedral
Changing of the Guard at Buckingham Palace (if available)

Attend an event at Bletchley Park

Day 4: Portsmouth

Sightseeing in Portsmouth

Day 5: Normandy Region • Caen

Take a walking tour of Caen

Day 6: Normandy region • Vimy region

Experiential visit of the Juno Beach Centre

Visit the Bény-Sur-Mer Canadian War Cemetery

Day 7: Vimy region • Amsterdam region

Take a tour of Bergen op Zoom and participate in a community event to celebrate Canada's relationship with the Netherlands

Commemorate Canada's relationship with the Dutch People

Day 8: Amsterdam

Participate in VE ceremony

Day 9: Wageningen • Amsterdam

Celebrate Liberation Day and participate in a full day of EF-exclusive events

Day 10: Depart for home
Interested in learning more about this tour?
Day 1: Fly overnight to London

Day 2: London

Meet your Tour Director at the airport

Take a walking tour of London

With your tour director you will see:

The Strand
Trafalgar Square
Leicester Square
Covent Garden

Visit the Churchill War Rooms

Day 3: London

Take a guided tour of London

Big Ben and the Houses of Parliament
Piccadilly Circus
St. Paul's Cathedral
Changing of the Guard at Buckingham Palace (if available)

Attend an event at Bletchley Park

Day 4: Portsmouth

Sightseeing in Portsmouth

Day 5: Normandy Region • Caen

Take a walking tour of Caen

Day 6: Normandy region • Vimy region

Experiential visit of the Juno Beach Centre

Visit the Bény-Sur-Mer Canadian War Cemetery

Day 7: Vimy region • Amsterdam region

Take a tour of Bergen op Zoom and participate in a community event to celebrate Canada's relationship with the Netherlands

Commemorate Canada's relationship with the Dutch People

Day 8: Amsterdam

Participate in VE ceremony

Day 9: Wageningen • Amsterdam

Celebrate Liberation Day and participate in a full day of EF-exclusive events

Day 10: Depart for home
Interested in learning more about this tour?
See what an EF tour is really like
Everything you get
This all-inclusive global experience gives students the chance to explore the world–all at an unbeatable value.
Airfare & transportation

Your flights—covered. Buses, trains, cruise ships, ferries and subways—covered. We take care of getting you around so you can enjoy the ride.

Hotels

Safe, comfortable hotels with private bathrooms will be waiting for you at your destination.

Meals

Traditional breakfasts and dinners bring local flavours to life as part of your tour experience. Lunches are left for you to discover new favourite dishes of your own.

Entrances

Bletchley Park; D-Day Museum; Juno Beach Centre

Full-time History Tour Director

Your dedicated Tour Director, specially trained in Canadian history, stays with you 24/7 to handle all on-tour logistics and provide knowledgeable insights everywhere you go.

Historic Commemoration

You'll take part in unique and exclusive events, and official ceremonies, that pay tribute to Canadian soldiers, and honour our past in meaningful ways that bring history lessons to life.

Expert Local Guides

Your expert local guides add cultural insight and global perspective on your sightseeing tours.

Personalized Learning Support

Our personalized learning experience engages students before, during and after tour, with the option to create a final, reflective project.

Continuous Support

Your dedicated EF team helps you every step of the way—from recruiting and enrolling travellers to planning and managing your tour.

24-hour Emergency Service

Travellers and their families can count on EF's dedicated emergency service team.

Worldwide Presence

EF has over 500 schools and offices in more than 50 countries worldwide so wherever you go, we're there too.

Peace of Mind Program

Feel secure knowing your group can change their destination or travel dates due to unforeseen circumstances.
Lowest price
Includes airfare, hotels, meals, full-time Tour Director and more.
Risk-free enrolment period: Benefit from added flexibility
If you are currently enrolled, or enrol by December 15, 2021, on a tour with a scheduled departure date between October 1, 2022, and September 30, 2023, you will have will have the option to cancel your tour for any reason by March 1, 2022, for a full refund of 100% of the money paid to EF, including the $199 non-refundable deposit and the cost of the Global Travel Protection Plan if your payments are up to date and your account is in good financial standing.
Contact a Tour Consultant for the most up to date price