First time to Europe
Our tour guide was AWESOME! He was very knowledgeable and easy to talk to. Would definitely request him on another trip. Some of the hotels we stayed in were small and hot. Some rooms were so small wasn't enough room for suitcases. Some nights had to travel an hour to our hotel and after a day of touring in the hot sun wasn't happy about that. Felt there were hotels that were closer we could have stayed at. Once we were on our guided tours some guides were very hard to understand. You had to stay close and read lips and with a larger group that was hard to do. Overall experience was good.
Practically Perfect!
We love Paris, the Riviera, and Rome! It offers so much for our students to see - a wonderful variety of history and culture, nature, big cities, and smaller towns. From museums to the beach to shopping time to funiculars, this tour offers a lot in a short time. Yes, it's very busy, and yes, we're exhausted at night, but it's a wonderful kind of tired! It's a feeling of accomplishment. We love the little things in this tour such as using the metro in Paris, funiculars in hilly Italy, free time in Florence, and of course the amazing Capri! Our tour director was so wonderful and went out of her way to make our requests happen. She was 100% positive and added so much to our experience. If there are any drawbacks to this tour, it would simply be unavoidable things like preparing for the extreme July heat and the quick pace; however we knew about these things going in and were ready! Food and hotels were also great and students loved our bus driver! Thanks again EF for another memorable tour.
Mostly on the bus
Most of our time spent was on a bus. There was little free time and we did not get two of the guided tours that we were promised. Since we paid for the tour guides, I'm not sure if we will get our money back for the two tours we didn't get. My group also had the worst planned flight back home. We had to wake up at 3AM for a 6:50AM flight. There was no sleep that night for most the people in the group. The tour guide was amazing and the places were of course, they were the only thing saving this tour from being one star.
Despite of lost time
I have to wonder how much more amazing it could have been. We lost hours sitting at the airport waiting on 3 travelers arriving on a later flight that could have taken an uber. Unfortunately, an injury happened with the other group participants which left us sitting for hours again. GF tours keeps the full payment while travelers lost time.
However, our main tour guide was amazing! He had to juggle the characteristics of two groups.
GF do a better job when trying to match groups together!
I did digress because this was not a cheap trip for me,every minute lost was money wasted but in the end I can not deny that I did enjoy myself.
Paris-Rome-Florence-Monaco-Sorento-Capri was great
We had a wonderful tour guide and a great itinerary.
Loved Paris! The guides provided great information. Already booked on another EF tour! Thank you!!
Very Disappointed
I guess because we got the cheap tour package all of our hotels where far away from the actual city's we were touring. More time was spent traveling than touring. Very disappointed overall. Our group had too many people in it (made up of 4 different groups) and that caused a lot of delays waiting on others to make it back to our meeting location. The hotels we did stay in were not nice at all. The last night I was in Rome I killed several spider's and there were ants all over my floor. I even got a spider bite that I will be going to see the doctor about now that I am home. EF food choices we awful! We ate gas station café food several times for lunch because of all the traveling and only a couple of times was I able to enjoy my lunch that I had to pay extra for because it was not included in our package. Very Disappointed overall!
Amazing... can't express.
Our tour guide was the most wonderful person ever!! She really did treat us like her own children and we all had our needs met, especially since I'm a vegan, she made everything very easy for me. I'll never forget the eiffel tower, beautiful notre dame, monaco beaches.. loved it all.. Thank you.
good experience overall, supper meals were awful
The positive: what a great way to see so many historical things in such a short amount of time. Our tour guide was kind, knowledgeable, and patient, always keeping us in line and on time. She really made the trip more memorable...Considering this was a 1st time out of the country experience for most of us we did well staying and keeping together..there was A LOT of walking, one day I logged almost 20 km... not something we are used to. I really loved the train ride to Nice, the countryside was beautiful and this was a time to relax and catch your breath. We saw so many beautiful places and did things that on your own you might miss. EF tours did a great job putting our trip together to keep it educational and interesting.

the Negative: the food was a huge letdown and disappointing- food is part of the cultural experience and as a group we were beyond disappointed with the quality of food we were served!!! and spent a lot of out of pocket expenses to eat before and after our supper meal ...the last hotel breakfast was awful.. the kids especially didn't eat... there was NOT one supper meal that was truly enjoyable- the restaurant in Nice was by far the worst.. it was like we were served slop on a plate and to make it worse the waitress was rude and curt. A lot of time we were rushed... for example, when we were in Pisa we wanted to tour around, look at the shops but we had no time... more downtime would be better- to see and explore a bit more on our own- maybe even have supper on our own and we would get to eat what we wanted and truly experience European cuisine Towards the end of our trip, we were dreading having to go out for supper, expecting slop again....

side note... be careful... I had my wallet pickpocketed in Paris on the first day!!! and there are a lot of gypsies and thieves eyeing your stuff-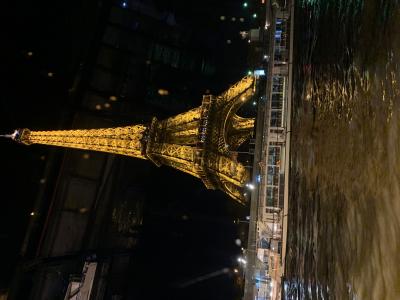 Beautiful experience!
Our tour with 70 students was beautiful! The tour directors were amazing! The only issue we had was one of our hotels was below expectations, we rated it a 1/10. Otherwise, the experience was very positive and one I will remember! Andiamo!
Sights amazing
Really enjoyed this tour. The historical sites were amazing. The kids were great. Only disappointment was the main tour guide. Loved the local guides and the information they provided.