9 or 11 days
Dublin, Galway, Killarney, Cork, with extension to Derry
Why have Ireland's culture, geography and history been capturing imaginations and inspiring writers for centuries? In Dublin, walk in the footsteps of giants like Jonathan Swift and James Joyce as you explore elegant Georgian squares and bustling streets. As you travel along the Wild Atlantic Way, discover the Ring of Kerry and the Cliffs of Moher, taking in the rugged beauty with all your senses. At every turn, savor the wit and down-to-earth spirit of the locals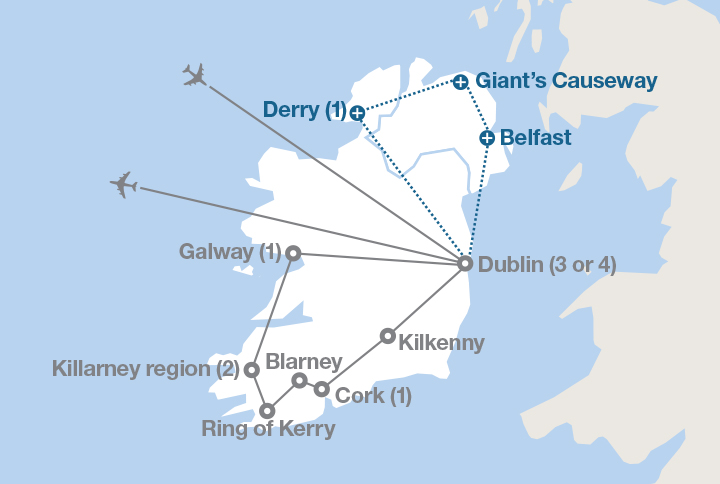 Day 1: Fly overnight to Ireland

Day 2: Dublin

Meet your Tour Director at your destination

Take a walking tour of Dublin

With your Tour Director you will see:

Grafton Street
Temple Bar district

Day 3: Dublin

Visit St. Patrick's Cathedral

Take a guided tour of Dublin

With your expert local guide you will see:

Georgian squares
O'Connell Street
St. Stephen's Green
Phoenix Park

See the Book of Kells at Trinity College

Add this in-depth excursion:

| | |
| --- | --- |
| | Irish Music and Dance |

Nothing captures the spirit of Ireland quite like its music and dance. Whether it's a jig, reel, or step dance, each type of dance—and the accompanying music—provides a unique look at Irish culture. As dancers in traditional dress perform, you won't be able to help tapping your toes, ready to join in the fun

Day 4: Dublin • Galway

Take a walking tour of Galway

With your Tour Director you will see:

River Corrib
Bowling Green
Local sites recommended by your Tour Director

Take a tour of Connemara, Maam Cross, and Spiddal

Day 5: Galway • Killarney

Travel via Cliffs of Moher to Killarney

Visit the Cliffs of Moher

Visit Bunratty Castle and Folk Park

Day 6: Killarney

Take a tour of the Ring of Kerry

Visit the Kerry Bog Village Museum

See a sheepdog demonstration (Available mid-April–October)

Day 7: Killarney • Blarney • Cork

Travel via Blarney to Cork

Visit the Queenstown Story exhibition at the Cobh Heritage Centre

Day 8: Cork • Kilkenny • Kildare • Dublin

Travel via Kilkenny and Kildare to Dublin

Visit the National Stud Farm in Kildare

Day 9: Depart for home
Add 2 more days
Day 9: Dublin • Derry

Take a guided tour of Derry

With your expert local guide you will:

Visit St. Columb's Cathedral
See the Diamond War Memorial
Learn about the unique history of Derry

Day 10: Derry • Belfast • Dublin

Travel via Belfast to Dublin

Day 11: Depart for home
Interested in learning more about this tour?
Day 1: Fly overnight to Ireland

Day 2: Dublin

Meet your Tour Director at your destination

Take a walking tour of Dublin

With your Tour Director you will see:

Grafton Street
Temple Bar district

Day 3: Dublin

Visit St. Patrick's Cathedral

Take a guided tour of Dublin

With your expert local guide you will see:

Georgian squares
O'Connell Street
St. Stephen's Green
Phoenix Park

See the Book of Kells at Trinity College

Add this in-depth excursion:

| | |
| --- | --- |
| | Irish Music and Dance |

Nothing captures the spirit of Ireland quite like its music and dance. Whether it's a jig, reel, or step dance, each type of dance—and the accompanying music—provides a unique look at Irish culture. As dancers in traditional dress perform, you won't be able to help tapping your toes, ready to join in the fun

Day 4: Dublin • Galway

Take a walking tour of Galway

With your Tour Director you will see:

River Corrib
Bowling Green
Local sites recommended by your Tour Director

Take a tour of Connemara, Maam Cross, and Spiddal

Day 5: Galway • Killarney

Travel via Cliffs of Moher to Killarney

Visit the Cliffs of Moher

Visit Bunratty Castle and Folk Park

Day 6: Killarney

Take a tour of the Ring of Kerry

Visit the Kerry Bog Village Museum

See a sheepdog demonstration (Available mid-April–October)

Day 7: Killarney • Blarney • Cork

Travel via Blarney to Cork

Visit the Queenstown Story exhibition at the Cobh Heritage Centre

Day 8: Cork • Kilkenny • Kildare • Dublin

Travel via Kilkenny and Kildare to Dublin

Visit the National Stud Farm in Kildare

Day 9: Depart for home
Add 2 more days
Day 9: Dublin • Derry

Take a guided tour of Derry

With your expert local guide you will:

Visit St. Columb's Cathedral
See the Diamond War Memorial
Learn about the unique history of Derry

Day 10: Derry • Belfast • Dublin

Travel via Belfast to Dublin

Day 11: Depart for home
Interested in learning more about this tour?
See what an EF tour is really like
Everything you get
This all-inclusive global experience gives students the chance to explore the world–all at an unbeatable value.
Airfare & transportation

Your flights—covered. Buses, trains, cruise ships, ferries and subways—covered. We take care of getting you around so you can enjoy the ride.

Hotels

Safe, comfortable hotels with private bathrooms will be waiting for you at your destination.

Meals

Traditional breakfasts and dinners bring local flavours to life as part of your tour experience. Lunches are left for you to discover new favourite dishes of your own.

Entrances

Book of Kells/Trinity College Library; St.Patrick's Cathedral; Cliffs of Moher Interpretive Center; Bunratty Castle and Folk Park; Bog Museum; Blarney Castle; Queenstown Experience; National Stud Farm; With extension: St.Columb's Cathedral; Tower Museum; Giant's Causeway Visitor Center

Full-time Tour Director

Your dedicated Tour Director is with your group 24/7, providing deep local insight while handling all on-tour logistics.

Expert Local Guides

Your expert local guides add cultural insight and global perspective on your sightseeing tours.

Personalized Learning Support

Our personalized learning experience engages students before, during and after tour, with the option to create a final, reflective project.

Continuous Support

Your dedicated EF team helps you every step of the way—from recruiting and enrolling travellers to planning and managing your tour.

24-hour Emergency Service

Travellers and their families can count on EF's dedicated emergency service team.

Worldwide Presence

EF has over 500 schools and offices in more than 50 countries worldwide so wherever you go, we're there too.

Peace of Mind Program

Feel secure knowing your group can change their destination or travel dates due to unforeseen circumstances.
Lowest price
Includes airfare, hotels, meals, full-time Tour Director and more.
Benefit from added flexibility of the risk-free enrolment period
If you are currently enroled, or enrol by June 30, 2021, on a tour travelling on or after October 1, 2021, you will have the option to cancel your tour for any reason through September 30, 2021. EF will refund 100% of the money you paid to EF, including the $199 non-refundable deposit and the cost of the Global Travel Protection Plan if your payments are up to date and your account is in good standing.
Program price valid for today. Program price includes all airline/travel provider surcharges, departure taxes and airport fees. Please call 1-800-387-1460 for more information.
People who viewed this tour also viewed