Overall Expectations
Terrible vegetarian options, which made it hard to enjoy dinner with everyone. Too many people in one room, so getting ready in the morning/night was very difficult. Enjoyed seeing the different sites and learning about the different history. Would prefer letting students chose from a few different options for dinner, fewer people in one room, better service in general. And have a flight booked properly and amke sure that it is not overbooked. Rating: 6 out of 10 stars overall.
Experiencing War
If you have ever wondered what the soldiers of WWI and WWII went through then you need to do this tour! To stand on Juno Beach and imagine the armada on the horizon - to experience the massacre at Beaumont Hammel from the German trenches - to see the pock marked landscape from the shelling - you think you know about it but you don't until you've been there! It truly is a sobering experience. You come home wanting to watch every war movie all over again because you can truly relate.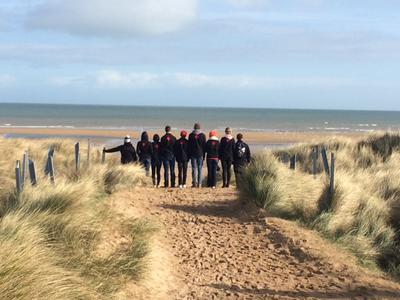 Pretty Sweet
Trip of a lifetime. Couldn't get enough. Love bringing small town shenanigans to such amazing and significant places. Really treasure the experience.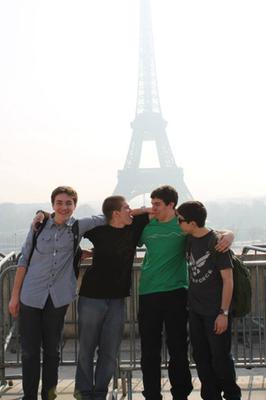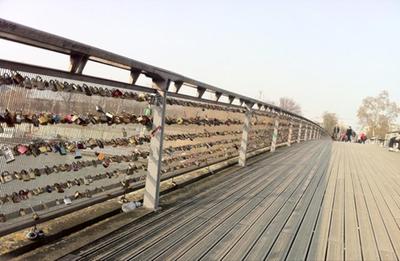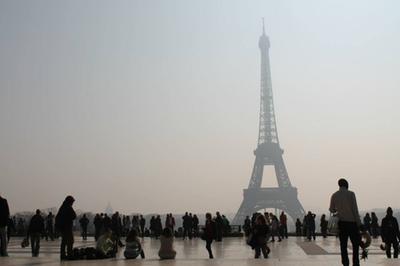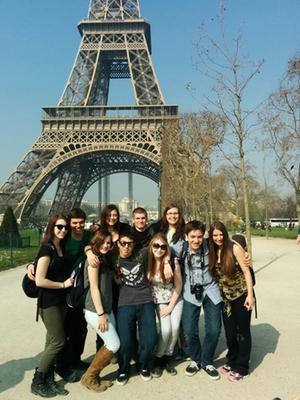 Fast-paced but good
The great thing about this tour is that you visit sites that are out of the way and you normally wouldn't see all of them on a trip that you plan yourself.
I liked that we started early and ended late almost everyday. On the days we got back to the hotel a little early, the students were bored, so I preferred it when we got back just in time for bed.
The tour director handles any issues with food, lodging, transportation (pretty much everything) that come up. Because he/she keeps you on schedule, you get to see and do so much! Some extras that our tour director arranged for us: an afternoon in Bruges, visited a German war cemetery and visited Pegasus Bridge.
Great time
It was great. I learned a lot. It will help me for my chooses for my life that want to take. I would take this tour again and maybe another one.
Lest We Forget
This tour was superb: varied activities and locations, well-paced and catered to all student interests- battlefields, museums, urban and rural sites, free time. Everything went smoothly and as planned thanks to our excellent Tour Director and fabulous student travellers.
Needed Better Planning
The only good aspect of this tour was the experience of physically standing on the battlefields and learning more about our history.
Unfortunately this positive is overshadowed by several negatives. The tour leader did not clearly communicate what we were doing each day and this made it difficult to know how to pack for the day. We did not know if we would be outside in the cold most of the time or if we would be riding on the bus for a few hours or where we were going or even where we were. The bus driver and tour leader did not speak the same language so there was a lot of frustration because the bus driver did not know where he was to take us or how to get there - we drove in circles many times! The lack of bathroom breaks and missing a couple lunches due to improper planning and communication made the trip much more difficult.
The evening dinners were very insufficient. Our group kept wanting to stop for snacks because they were still hungry. The serving portions were too small and no seconds were offered even when people made it very clear that they were still hungry.
Overall this trip seemed poorly planned and poorly communicated. The tour leader was not sure what we should do or where we should go at times. This should have all been planned and scheduled ahead of time and this schedule should have been given to each person (including the bus driver).
I will say that most of the hotels were pretty good but one of them was disgusting (only a curtain separated the toilet and shower from the rest of the tiny room).
One final note - the phone cards did not work for many people and those who had a working card only received three minutes of calling time instead of five minutes.
Woot
This tour was awsome.. The only thing I would have changed was the acual amount of time we spent at the battlefields more spacifically Vimy Ridge. I wish we could have spent hours there istead of a mere 30 minutes.
Educational Trip!
This trip was not only fun, but it was educational, exciting, and amazing. You had the chance to go with people you knew and got to know them even better, creating a special bond between the group. We saw and experienced things most of us never had before, and tasted foods that made us melt. I would and have strongly recommended this trip to friends and family, and have also met other people who went on similar EF trips and loved them.