Must do trip! New York City
I went on this trip a couple yeas back with my school and every year a new group or students involved in the arts travel there. The travel there and back was shorter than I expected which was great, and there isn't much of a time difference so you didn't have to spend anytime "jetlag recovering". Of course the trip was filled with an activity all day, with the exception of when we were sleeping. By far the most moving place we visited was the memorial of the World Trade Center and the church which withstood the whole tragedy and is still standing. During our free time, which there was a lot of, we could have went to the wax museum and according to the reviews my friends had after they went, it is a definite must see in New York. There were the expected places to see such as Lady Liberty and the Empire State Building. I was surprised by how much background information was provided by the EF Tour guides because it really gives you facts about these iconic structures you wouldn't have otherwise known. Overall the trip was most certainly worth the effort and I definitely made new friends along the way but most importantly I gained valuable education that is only learned through an educational tour. Thank you EF Tours for making my experience of New York one I'll always remember.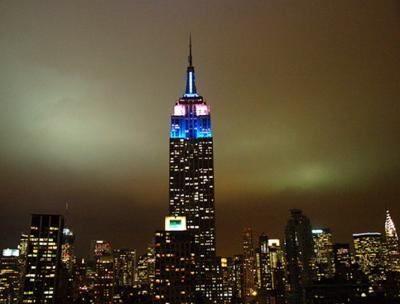 Awesome Experience
what a great way to experience New York...to have your own tour guide and to be able to hit most of the major attractions as well as experience the city's less known wonders. Every day was planned and filled with activities; there was never a dull moment. Because of the EF Tours experience, I would feel totally comfortable to take New York on again; this time alone.
Once in a life-time chance!
New York City has been on my must see list since the fourth grade, not only did this tour take me there but gave me a peek into the different cultures that NYC has to offer. Flying in and looking out the window at the massive urban expance was nothing I had seen before, being from a small town and all, It was absolutly breath taking! On our first night we were taken to china town, shown the sights and experienced true chinese food. after dinner, we ventured deeper into the city and tasted world famous icecream that would make your jaw drop. And to finish off our first night, we gazed over the remarkable New York land scape from the empire state building. As the days continued, we experienced different cuisine and various parts of the city, stopping to see the famous land marks, buildings and cultural epecenters such as Radio City Music Hall and The Museum of Modern Art. Our jovial and goofy guide Brian, enhanced the sights with his vast knowledge of the city and all she had to offer as well as giving us bits of trivia about certian areas, buildings and burrows. During the trip we attended an acting workshop that was a truly amazing experience. Learning some Drama games and even some serious acting techniques that truly peaked my interests. One of the most wonderful aspects of our stay was the free time in time square where we got to feel the big city vibe all on our own and first hand. Navigating the crouded streets and busy traffic was all part of the experience. If the opportunity was ever to arise again, I would surely go an another EF Tour! And to any who may be considering the Broadway and the Arts tour, Go For It! It is a once in a lifetime experience and you dont want to let it pass you by.
GREAT TRIP.
I had a great time on my trip. New York City was an amazing experience. I am not only glad I am able to say I went to New York, but that I went to New York with EF Tours! My TOur Directors were amazing, simply great people. Our tours were good for allowing us options in what we wanted to do and where we wanted to shop and the sites we went to see. I did everything a person should say they did while in New York. Great Tour! THANKS.
AMAZING TRIP! :) A truly great experience.
SIMPLY FANTASTIC! A truly wonderful experience I will treasure always with a great tour guide and wonderful sights to see. A major recommendation to anyone and everyone! :)
Fabulous
It was a wonderful experience and the trip gave my child the independence she needed to show her time away from her family. She enjoyed all the shows, shopping and time spent with her classmated. Whould highly reccomend to any student.
Wonderful educational opportunity
This tour gave my child the opportunity to experiencelife in a major city in another country. The sights that she saw and the experiences that she had while on her trip has definitely enriched her life. She had developed friendships while on her trip that continue today. Overall, I feel it was a great experience for her
Awesome Trip!
Other than the tour guide which did not show up, the tour was really awesome!