Trips of a Lifetime
This was my daughter's second EF Tour, first to Italy and then to Greece, and 2011 will bring her to England. The Greece Trip was an amazing adventure especially since it included the cruise of the islands. The vast amount of knowledge that she consumed and the history, culture, and the fact that she was independent but yet I felt secure in the knowledge that EF Tours and her teachers were there to protect her and watch over her made me feel secure in her travels. It is an amazing experience for the teenagers to travel so reasonably and safely that these trips have been the highlights of her life. To experience the food, the different living environment, the people and the language was something that she will never forget. I feel that EF Tours and the cities that they choose have made a daughter a better young adult. Thank you EF tours for an incredible job with our children.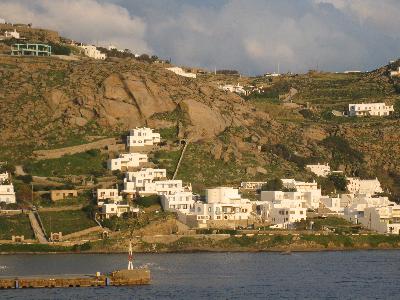 What great learning experience!
Our son learned a greater appreciates for other cultures and his own. Naturally, we were concerned for his safety while away, however all the leaders were very experienced and kept us in the loop at all times. We can't wait to see what next summer has in store!
Good value not great plans
Despite our school's best efforts at coordinating an awesome trip, our tour director was not forthcoming on plans, did not use technology (i.e., WhatsApp) as promised, and was not forthcoming with details. This caused unnecessary anxiety and extra pressure on chaperones to assure students of what was coming not only in the next day but in the next coming hours.
The tour director did hire excellent archaeologists and historians, but failed to connect with all students. Although EF's goal is to educate and connect, there was not always the depth of relationship building required for a wide range of student interests and background.
Since we had an additional EF tour from another state, much time was spent on those four students to our 36 students. There was an obvious bias toward an older tour coordinator to our relatively young tour coordinator.
Finally, the large tour group we were paired with for the last night was two hours late and prolonged an already lengthy night with little sleep. Accommodating other groups at our expense is not appreciated.
Opportunities Abound
This was an amazing trip! New friends! A brilliant tour guide who was knowledgeable, accessible and fun.! Local guides who are knowledgeable and interesting. Exciting cruise full of activities. Food opportunities that are delicious! I will do this tour again!
On Tour
Excellent tour. The schedule is perfect--I like that we drove straight to the airport after the cruise.
Amazing!!!!
Everything went very smooth. Educational, excitement and vivid.
Trip of a lifetime
Our group leader was so organized that we all felt very comfortable and safe. The tour guide was very knowledgeable and helpful to all the students and adults. She was kind, fun, and caring. Everyone had a memorable experience touring in this beautiful country!
Good Experience
The Greek Tour was good. Some helpful hints are:
1. There is a lot of walking. If you have any injuries you may want to rethink this tour or make sure that you rest a lot.
2. Make sure that you exchange currency at home or at the airports. There wasn't any place to exchange currency. But you can get money from the ATM.
3. The cruise/land version is too much. We were rushed on the tours that were scheduled during the cruise which was all the islands. And the cruise ship leaves as scheduled.
4. The tour guide gave times that we needed to leave instead of times to meet in order to leave on time. This was very stressful.
5. There isn't much rest on this tour. I tried to rest as much as I could on my free time.
6. Shopping is good. Things are less expensive.
7. You will learn a lot about Greek Myths. The tours was very interesting.

Hope this helps. Although there was some touchy points, I would still recommend going because it is very nice and going with some time to enjoy would be great!
Great Experience
Enjoyed the tours and ample free time.
Wonderful and Worth the Money!
Our tour guide went above and beyond in order to give my group the best experience that we could get. There were several highlights to every day and the activities were very well-rounded. We saw a lot of famous places and a few non-famous places, too, in order to eat the full experience. If given the chance, I would do this tour again in a heartbeat!